19 August 2022 •
Student News
Never Cross a Picket Line: USyd Staff & Students Take Action Against Management for Fourth Time This Year
On the 17th of August 2022, University of Sydney students & National Tertiary Education Union (NTEU) members took industrial action against management for the fourth time this year. Here's why they're striking, the experience on the pickets, and why students (USyd or otherwise) should show up for them.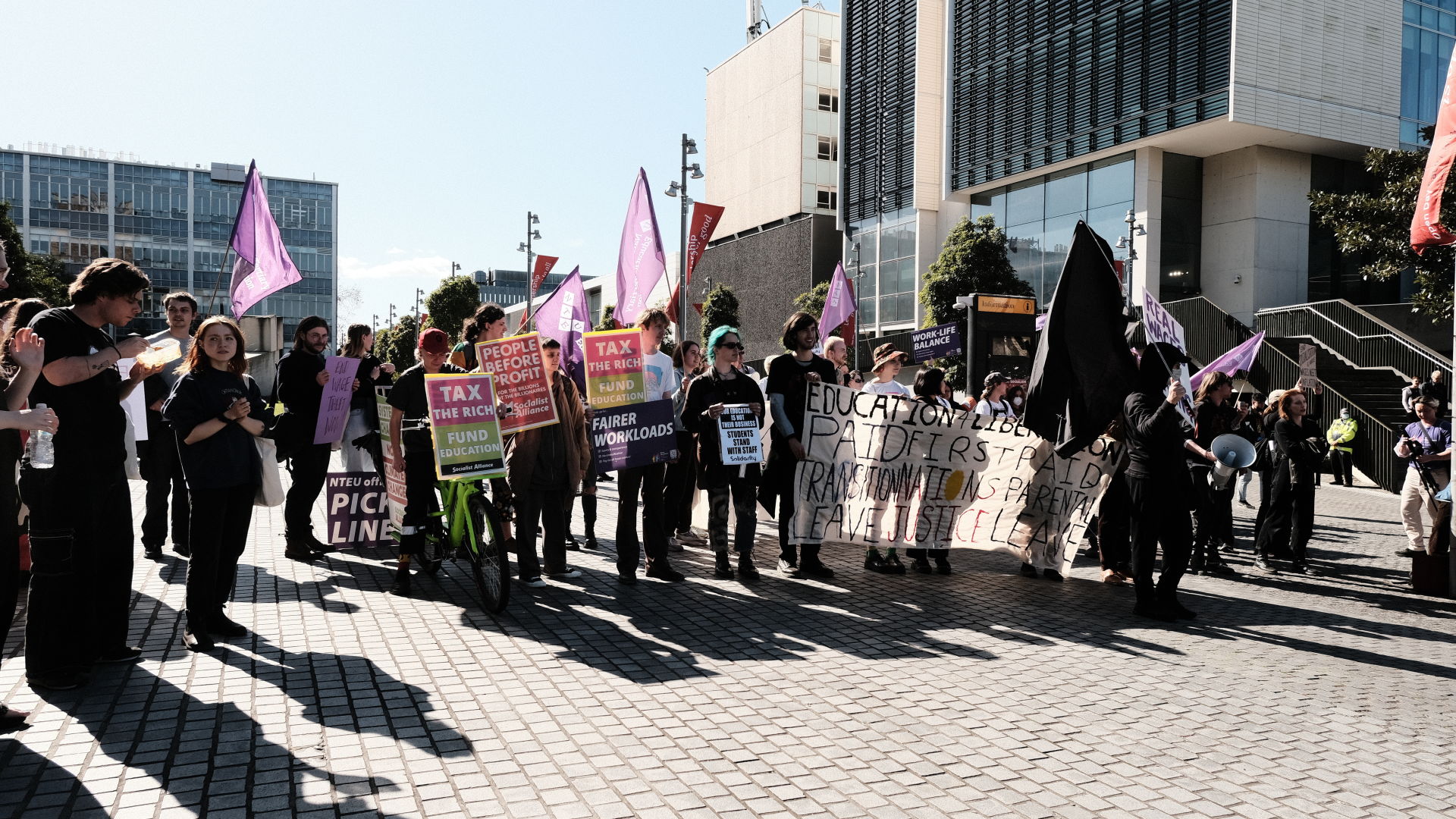 Context: Why are staff and students striking? What is a scab?
USyd staff are still bargaining for concessions from management. Their demands remain the same as earlier industrial action taken in May: raised wages for inflation, an end to casualisation, protection of the 40/40/20 research model, gender affirmation leave for trans & gender diverse staff, and an enforced target for First Nations employment.
I wrote an article in May called 'Staff Strikes are Students' Business too,' which helps to lay out a bit of contextual groundwork. In a nutshell, the staff cuts for Tertiary Education staff at the University of Sydney has reached a state so dire that they are expected to mark 4,500 words in an hour. Wages are not rising for inflation. Staff are burnt out, underpaid, and tethered precariously to the university via casual or fixed-term contracts. These conditions are a serious impediment on the livelihood of our teachers and the quality of our education.
Anyone who breaks the strike by entering campus on the day of industrial action is known as a scab, since they decide their reason to do so is more important than the fair treatment of staff. It means they side with management and don't care if their teachers lose the battle. When there's a picket line in their way, they can be willing to push through a human barrier to demonstrate this.

On the picket line: sausages, a French horn, & a union dog
I got to the City Rd entrance to Eastern Avenue at about 8:30 a.m., where I immediately assumed the position I would hold for the day. My job in maintaining the picket line was to hold up two banners that had been tied together to span the length of the gap between two trees, which would otherwise have been an open entrance into campus. They read: "40-40-20 teaching, research, admin. Education for liberation. USYD engineers support staff strikes." The other, more simply, "Staff + Students United."
Students and staff were scattered along the entrance, many of them holding purple signs that read "Work-life balance" and "Fairer workloads", amongst other demands. Activists diligently informed students that debarked at a nearby bus station about the industrial action: "Campus is closed today. There's a strike on!". Eastern Avenue was desolate and sun-drenched behind us. We took it as a hopeful sign we were doing a good job.
History lecturer David Brophy helped stir up some chants along City Rd:
"What do we want?" He'd yell into the megaphone, "Job security!", we'd relay back. "What do we want?" "Indigenous jobs!", "When do we want it?", "Now!".
Eastern Avenue is the widest entrance into campus, so scabs would occasionally slip past. They'd either have their backs yelled at or they'd be chased down the cobblestoned path. Strikers would say to them, "I'm sorry, but there's a strike today, so you'll have to study somewhere else." Many strikers even helpfully assisted students by giving directions to the nearest off-campus libraries.
I only bore witness to one confronting interaction between a scab and a striker. The student approached the picket determined to enter because they "had class," then they "just wanted to go to the library," then they "only needed to go to the bathroom," then their "American friend just wanted to see the campus." They were awfully stubborn, even in the face of the NTEU member who told them that breaking the picket line was undermining industrial action whose success or failure was tied to real consequences. "Alright, good job," the student seemed to give in. Then they tried another entrance. I understood suddenly why scab psychology was not only agitating but sort of perplexing, too.
The smell of sausages and onion filled the air. We could thank the Maritime Union of Australia for that. The sound of car horns was constant. We acknowledged them with fists in the air. Some clapped out their windows. Others flipped us off.
A lecturer with a French horn, who was a mainstay of the strikes in May, set up again for a musical performance at the picket line. As I walked around, I saw that some strikers were holding sheet music, and soon, the melodies of "Ciao Bella" and "Solidarity Forever" rung out across the Eastern Avenue entrance. Three guys even turned up in costume, one of them dressed as a Despicable Me minion. They seemed to be ironically participating, eagerly rushing up to the side of the road and twirling the purple NTEU signs around with unusual vigour. It was hard to discern their intention, but we had to assume they knew what they were doing was offering support regardless of whether it appeared they were taking the mickey or not.

I heard of the other picket lines through rumours as comrades came back to City Road. There were seven picket lines at six other entrances to the campus, including at Victoria Park, Ross Street Gate, the Footbridge, Carillon Avenue, Abercrombie Business School, Redfern Boardwalk, and the Charles Perkins Centre. Some picketed at the Sydney Conservatorium of Music, too. Strikers at these other entrances turned cars back, linking arms to form a hard picket.

It was difficult to gauge the scale of the effort as a whole from just one entrance. That was until all strikers combined forces to march down Eastern Avenue at about 1:30 in the afternoon in a mass demonstration. They chanted,

"secure jobs! Fair pay! That's why we're on strike today!"
Speakers rounded the day off after the rally. USyd NTEU branch president Nick Riemer started first. As he had done early in the morning, he congratulated us on a successful day of action. There had been more registrations for the pickets on this day than the other strike day and the University of Sydney NTEU branch had more members than in the last decade.
"So let's all pat ourselves on the back […] Everyone here who has just joined the NTEU, everyone here who is on their first strike or their first picket […] everyone who organised workplace meetings and who put up posters, who tried to persuade their colleagues why breaking the strike is the wrong thing to do and joining us is exactly the right one."
The value of cross-campus solidarity
It's important for UTS students to show up in solidarity with USyd staff because the issues that affect them are the very same that affect us. The University of Sydney has a strong history of militant activism, so we should consider Eastern Avenue the perfect stage for education action now more than ever. Showing up to increase the scale of the pickets sends a stronger message to management, to USyd staff, and to surrounding university students: we understand that our interests are aligned. We know how to work together to demand what we need. USyd staff and students alone have great strength in numbers against management, and even more when UTS students show up to join the fight.
The UTS branch of the NTEU is gearing to take industrial action. I would hope that UTS staff and students can feel emboldened and inspired by the display of solidarity on the campus of USyd on Wednesday. That's what this is about– when students fight for fair working conditions, we're fighting for quality education. We're fighting for more affordable degrees. We're fighting for the return of electives we've seen diminish as a result of course cuts over the past few years. We're fighting for guidance, for feedback, the kind that can only come from well-rested tutors. And when we show up to form picket lines, we are physically demanding these things. That means articulating our position to potential scabs, befriending the comrades who stand beside us, and hearing the personal experience of staff, singing songs of solidarity and patting union dogs.
To get involved on campus, reach out to the UTS Education Action Group & stay up to date with the NTEU's plans for action. We have all been affected by management's poor COVID response. We should fight to make our universities safe places to learn and work by any means available to us. This unquestionably includes cross-campus solidarity, and never includes crossing a picket line.