Vertigone 2022 • 18 August 2022 •
Politics & Law
The University of the Future: In Conversation with Senator Mehreen Faruqi
Joseph Hathaway-Wilson of Vertigo sits down with Australian Greens Deputy Leader, Senator Mehreen Faruqi, to discuss staff cuts, student unions, and your favourite student publication.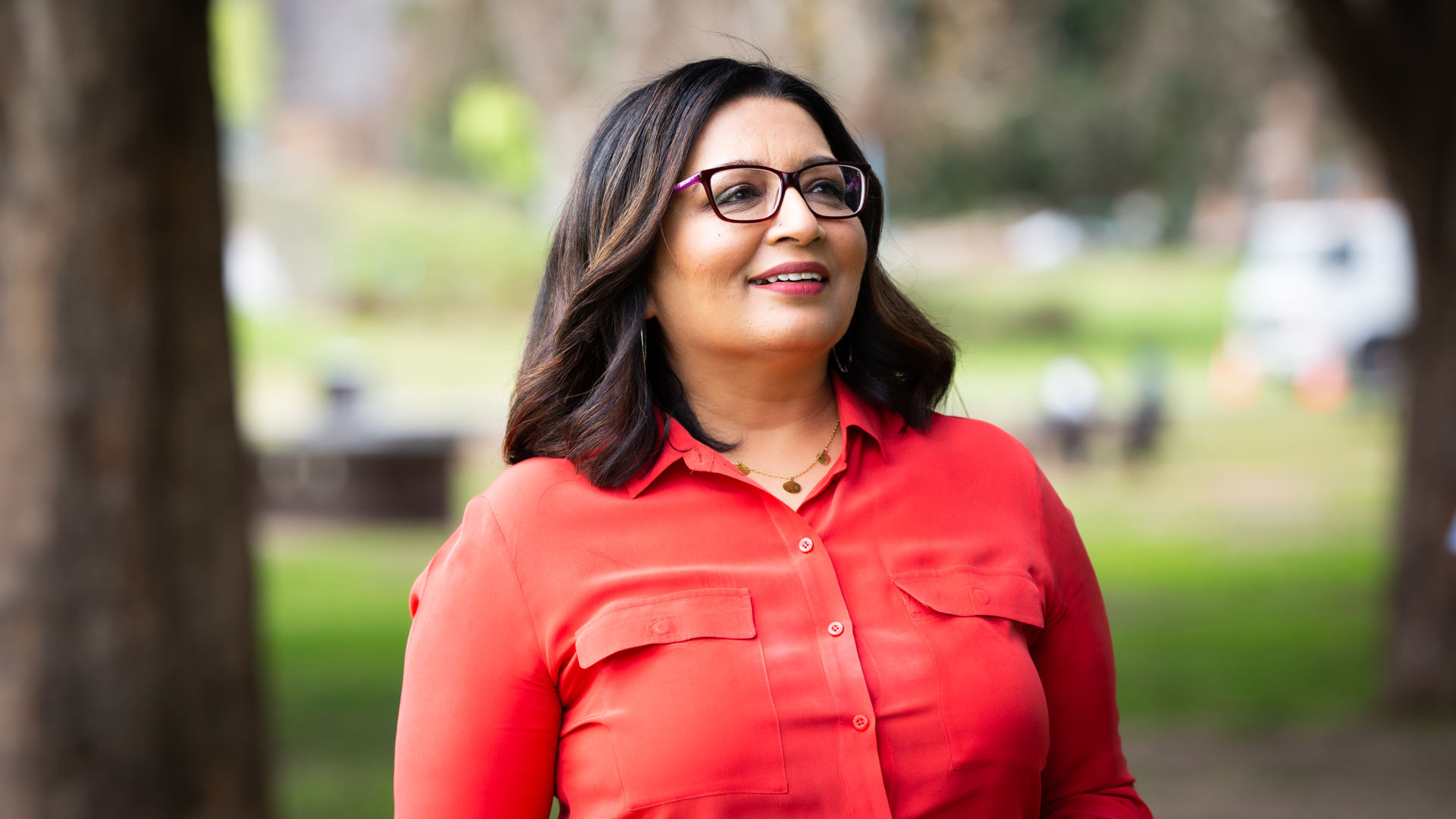 V: On June 1 you wrote to UTS Vice-Chancellor Andrew Parfitt urging him to reinstate full funding for UTS Vertigo. Why do you believe it is vital that student media is cultivated not only by students but by university management themselves?
M: Student media is crucial not only for our universities, but more broadly, for democracies. Student-run publications have a strong history of advocacy on a huge range of social issues. They hold institutions accountable, especially by amplifying the voices of young people, and there are not many avenues for young people to contribute to public debate like student publications. Vertigo is also a platform for so many UTS students to get their first publishing opportunity, and it's critical for them to build their experience as writers and go potentially into careers in publishing and writing. Vertigo is representative of a strong culture of design and media excellence that UTS is known for, so any cuts to a publication like this will impact that.
V: Australian student unions are currently financed by the Student Services and Amenities Fee at the discretion of senior university executives. As the Greens spokesperson for Education, what can be done from both a parliamentary and grassroots standpoint to strengthen the independence of student unions in Australia?
M: Voluntary Student Unionism was such a step backwards during the Howard government in terms of how students democratically function on campuses. A decade and a half later, we really are seeing the impacts of that in a lack of representation of student voices, less money for clubs and societies, and less money for student life. Student unions do such an incredible job despite these losses, and they keep pushing forward to improve things on campus. The Greens are in full support of the independence of student unions and see it as essential that the Student Services and Amenities Fee is allocated democratically. These funds should be increased, they should be dedicated to student services, and most importantly, they should be controlled and distributed democratically by students.
V: One of the largest fallouts of the pandemic on Australian universities has been the overwhelming casualisation of staff. What is currently being done or can be done by the government to attain greater job security and proper wages for university staff?
M: Before being a politician, I was an academic in a university for quite some time, and I did see, very sadly, universities becoming corporatised and operating as businesses. It happened with funding cuts from the government, but it was also a misguided imperative of efficiency and productivity that saw a huge rise in insecure and casual work. We know now, with enquiries into systemic wage theft in a large number of universities, how inextricably linked wage theft is with casualisation. It's heart-wrenching, because those academics and those researchers really can't plan for a viable future or even plan for their life. It also has flow-on effects on how universities operate and how learning and teaching is done. I guess one of the biggest fallouts of this casualisation is the impact it has on women. We know that casual workers and particularly women — who are overrepresented as casuals — are really bearing the brunt of what I would call exploitation and wage theft as well. Currently, the government is taking little to no action to ensure that staff have secure and safe jobs. What we want is clear reporting requirements of employment statistics, which means headcounts of fixed-term and casual staff, so the public knows exactly what is going on in universities. There should be requirements for universities to set publicly available targets for increasing permanent and secure employment. There should also be improved rights of entry for unions in universities so they can intervene wherever needed.
V: I think it's an important point you raise about transparency. In an interview with Vertigo earlier this year, Vice-Chancellor Andrew Parfitt justified the high rates of casualisation at UTS by pointing to workforce diversity and saying that a casual contract is largely beneficial, which I found interesting given how many of our casual tutors are having to take on the workload of permanent staff.
M: Absolutely, and on that argument of "people want to have flexibility at work" — it's not actually the workers that have theflexibility in that situation; it's the employer who has the flexibility to hire and fire workers whenever they want to. Casual staff have no rights to paid leave and a vast majority want to have security of employment. The amount of money that casual staff are paid for marking is so imbalanced with the amount of time that they spend marking. We must abolish piece rates as well.
V: One other fallout of the pandemic is the increased focus on online learning. What's your stance on the digitalisation of learning at Australian universities?
M: When I was teaching at university, I was teaching face-to-face and online. My experience was that to really do justice to online teaching, you need to support the teachers, and you need to provide really good resources to students. It's not about recording a lecture and then using it over and over for years to come. I fear universities see this opportunity as a cost-cutting exercise when it is the exact opposite. I agree that there should be an option for online learning as it has become much more accessible for so many students. But also, so many students want the in-person experience of university. So many students are feeling isolated and robbed of their in-person experience — some of the students I know have deferred their studies due to being unable to cope with online learning systems. So, it is important to consider the impact this has on students and on lecturers who also must undertake increased teaching hours and are feeling stressed. [Online learning] can only work when there are resources, funding, and support provided.
V: How do you believe Australian universities can better support international students who have been locked out or severely disadvantaged by the pandemic?
M: It was just atrocious, during the pandemic, the way the government treated international students. These are students who had called this place home. These are students who do all the work that so many who live here don't want to do. And they were left completely high and dry with nothing, not even a skerrick of support from the Federal government during the pandemic. My office and I were contacted by literally hundreds and hundreds of students who were in real strife. I just think that was disgraceful how that happened, and it can never happen again. Apart from what those international students faced, which was horrendous, I think it has affected the reputation of Australian universities in terms of how international students might perceive it. They pay exorbitant fees, and it was clear they were just being treated as cash cows. International students should have access to safe and affordable housing while they are studying here, and they should have access to travel concession cards and health services — that is the bare minimum that we should be doing.
V: You recently published a discussion paper called 'The University of the Future'. In summary, what does Australia's university of the future look like?
M: The university of the future, in my perspective, is a place where students flourish and staff have the security and the funds to do research, learning, and teaching of the highest quality. The university of the future is a place where higher education is built on the notion of democracy and equity. In terms of what I want to push forward, we need to look at reversing the uni fee hikes and funding cuts of what I call a very shitty Job-ready Graduates Package. Our universities are also in desperate need of massive new investments in teaching, learning, and research, and that's something which I'm very keen on pushing the new government for. The university of the future needs an overhaul of university governance, because only by radically shaking up who runs our universities will we be able to shift the balance of power away from the corporate managerial class back to staff and students. Finally, we need to look at wiping student debt and making university and TAFE free.
V: What are the most paramount priorities for The Greens in the sphere of Australian education right now?
M: Right now, from the perspective of staff, it is really important to address the issues of casualisation and wage theft at universities. From the perspective of students, it is crucial that we push forward with reducing the burden of debt. The cost of living, for young people especially, is massive. We need to look at how we can reduce that burden — by wiping student debt or by using any other strategy which makes life easier for students. We had free university and TAFE once, and there are many people sitting in parliament who benefited from that. I see absolutely no reason why schools are free, but universities somehow aren't. It's all part of the parcel of life-long education, from early learning through to schools.