Glitch 2021 • 12 May 2021
Top 3 Modern Facilities Around Campus
Being the #1 young university in Australia isn't an easy feat. As an educational institution, UTS has allocated billions of dollars into its modern campus to re-industrialise its facilities for students and uphold its progressive reputation. UTS prides itself on being part of the Australian Technology Network, and keeping students up-to-date in their fields. The UTS 2027 strategy outlines its vision to be 'a leading public university of technology recognised for [its] global impact', and it's well on track for that. While there is always room for growth, below are three spots on campus that reflect just how technologically advanced UTS is.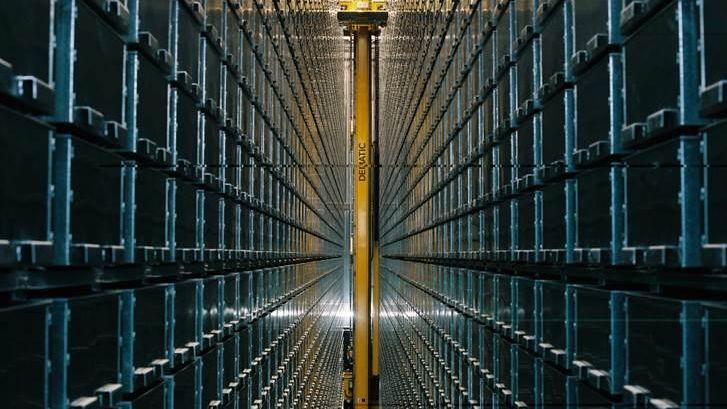 #The UTS Library Retrieval System
Not only is technology all around us at UTS, but it's right at our feet. Ever sat on the Alumni Green? You're actually sitting on top of books! Don't believe me? Just ask the UTS librarians. Only the second of its kind in Australia, the Library Retrieval System (LRS) is an underground storage facility that keeps a physical collection of books that aren't in dire need. This modern space can hold up to one million items. By the end of 2014, about 345,000 items had been relocated to the LRS. When an online request is made from the library, a fast-travelling robotic crane fetches the item and delivers it to the book lift next to the Reading Room in Building 2 for pick-up. Try this out before you graduate, and flex about having a robot personally deliver a book to you.
Located in Building 11, home to the Faculty of Engineering and Information Technology, the Data Arena contains 360° screens, where you can blow large sets of data around you. Not only does the collaborative visualisation enhance accessibility for students, but this interactive data facility tries to change the way we view and interact with data. How does it work? UTS has provided a thorough explanation, stating that, 'a high performance computer graphics system drives six 3D-stereo video projectors, edge-blended to create a seamless three-dimensional panorama'. Pretty cool, huh? To virtually explore the many UTS projects that have emerged from this dynamic space, visit the UTS Data Area site. Or you can book an in-person demo to see first-hand what the future of data science holds.
Building 7 is home to the UTS ProtoSpace 'an additive and advanced manufacturing facility that actively supports education, exploration and innovation'. It contains Australia's largest collection of additive manufacturing technologies. You can access advanced 3D printing services, modern scanning technologies, and expert technical support from the talented team who operate in this futuristic space.
Fun fact: During the height of the pandemic, and the onset of virtual teaching and learning, a large group of UTS staff and intern students came together in the Protospace to create over 300 essential face shields for medical workers in Papua New Guinea. This project was done using the Protospace 3D printers. Go UTS!