Sonder 2022 • 16 April 2022 •
Arts & Lifestyle
Demons and Designs with Steven Rhodes
​Steven Rhodes is a graphic illustrator whose retro-inspired designs you've probably seen in Blue Dog Posters or on the t-shirt of a passing stranger. With hilariously twisted renditions of '70s and '80s comic art, Steven has a highly successful collection of designs infused with the perfect balance of offbeat, original, and occult charm. Vertigo chatted with Steven about his creative process, design inspirations, and the most enjoyable moments of his eccentric career.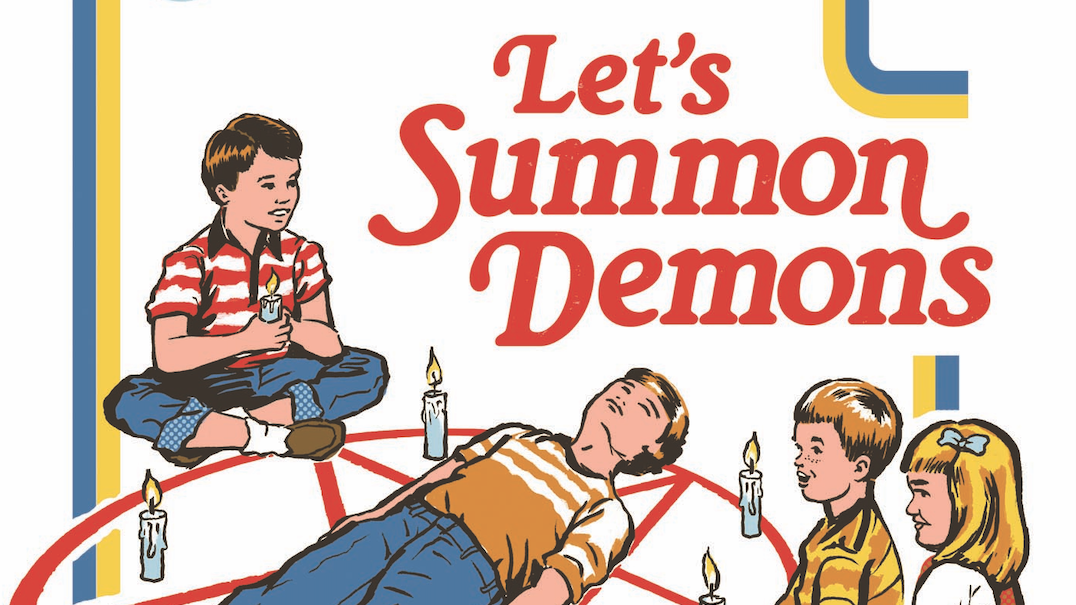 V: Hi Steven, thank you for taking the time to talk with us. Could you introduce yourself to our Vertigo readers.

SR: Hi there, I'm Steven Rhodes. I'm an illustrator probably best known for my sinister reimagining of children's activity books from the '70s and '80s.
V: You're an Australian artist based in Brisbane. Does where you live affect your art?
SR: I can't say there's anything inherently "Brisbane" about my designs. I'm mainly expressing a lot of my memories of childhood nostalgia, which, as it turns out, includes a lot of American cartoons, movies and sitcoms. Looking at my art, I think a lot of people are surprised to find out I'm an Aussie.
V: Did you always want to be a graphic illustrator?
SR: I've always been an artistic person who needs a creative outlet, whether that's drawing, painting, making music, etc. But after high school, I wasn't convinced I could make a career out of art, so I took the safer option and studied landscape architecture. It wasn't until a bit later in life that I made the change to study graphic design.
V: Tell us about your creative process.
SR: Once you've found your creative voice, your brain has a way of always being in "search mode". You tune your mind to a certain frequency, scanning for ideas and documenting them when you pick them up. Some of them might be good, some might be awful, but I keep a list of ideas as words or little sketches, and I sort through them and see which one I feel like working on next.
V: Tell us more about the inspiration behind your designs. What genres of film and TV inspire you most?
SR: Primarily, I'm interested in pop culture aimed at kids from around the 1970's and '80s. Books, board games, toys, adverts, VHS covers, arcade graphics, trading cards. Stuff like that. When it comes to film, I get inspiration from retro horror movies, particularly folk horror with witchcraft and devil themes. I love the gory practical effects and body horror of '80s movies. Modern CGI can't really compete with that.
V: You have a very unique and offbeat style. How did you develop your style?
SR: Finding your style is a gradual evolution and is constantly changing in subtle ways.
I grew up in the '80s, so this aesthetic is naturally ingrained in my mind. "Science" and "Let's Summon Demons" were the first designs I made, combining the children's book look with my sense of humour. I got a really positive reaction to it, so I just kept exploring and honing my designs in this direction.
V: I'm a huge fan of your designs, and so are many people I know. How does it feel to see strangers wearing your designs? Have you had any interesting encounters?
SR: It blows my mind when I see people wearing something I drew! It's still a novelty to me, and I hope that never changes. The most bizarre thing is seeing pictures of Slash, Kirk Hammett, or Sean Lennon wearing my designs.
I'm a massive introvert, so I'd never go up to anyone and say, "Hey, that's my artwork you're wearing! Let's talk!"
V: What emotions do you want your designs to evoke?
SR: Ultimately, the main objective with my designs is to be funny. But if I can creep people out at the same time, that's an added bonus.
Lately, I've wanted to introduce more weirdness. The world needs more inexplicable weirdness, in my opinion!
With the devil and occult themes, some people assume I'm out to offend or corrupt young minds, which, if you know me, is pretty funny.
V: What has been your most enjoyable experience during your career?
SR: I think it's been the satisfaction of turning my artistic abilities into a viable career where I'm able to make a living. Earlier in my life, I thought that would never happen, and it caused me a lot of frustration. A creative career can be a tricky path to navigate, and it's something everyone needs to figure out for themselves. It took me a long time to arrive here.
V: When you're not designing, what do you enjoy doing?
SR: My wife and I are pretty obsessed with mid-century modern design and architecture, so we spend a lot of time exploring antique stores and hunting down stuff for our house.
We watch a lot of movies (A24 is putting out some great, weird stuff). I collect '80s toys. I play the guitar a little bit.
V: What advice do you have for young artists trying to find their distinct style?
SR: Take some time to get introspective and think about what makes you uniquely "you".
What are your weirdest passions, insights, humour, quirks, and fears, and how can you put that on the page? It's about moving away from the current design trends and tropes and making personal work that excites you. Chances are other people will be into it as well.
V: What kind of ideas are you working on now, and what does the future look like?
SR: I'm focused a lot on the licensing side of things and trying to get more of my art into stores here in Australia. For the future, there's a few things I'm working on, but I can't really discuss it yet.
V: Where can we see more of your work?
SR: Follow me on Instagram @stevenrhodesart.
Wear my designs - available at Threadheads.