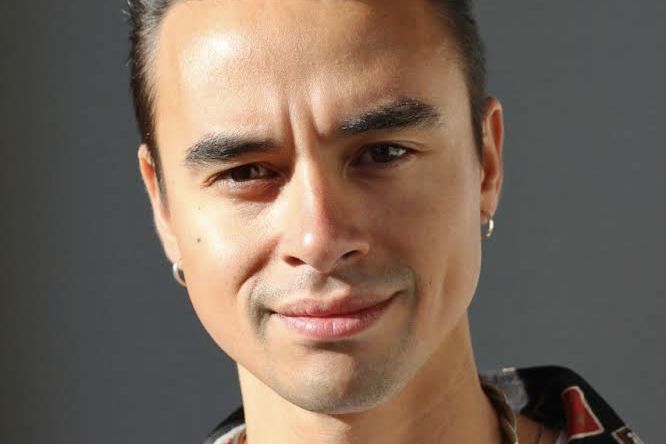 Robert Juan Kennard, author of 'My Mother's C-Section / Un Terremoto Ilocano (An Ilocano Earthquake)'. (Photo provided by Robert)
Robert is a Filipino-Australian writer whose poem 'My Mother's C-Section / Un Terremoto Ilocano (An Ilocano Earthquake)' is featured in Everything All At Once (Ultimo Press), an anthology of work by emerging writers under 30. 'My Mother's C-Section' explores the spaces of grief and disconnect in our world and in cross-cultural worlds as well.
Angela: My fellow editor Erin, who really wanted to be here but unfortunately is unable to join us, thought your poem was just really beautiful. She thought it had such a unique voice. And she thought the way you split the poem into an echo was so interesting. What can our readers expect from 'My Mother's C-Section'?
Robert: Like many writers who are doing poetry and creativity, it's easier to write from a place of pain than a place of happiness, I think. I wrote this poem a couple of months before the call outs last year. It's got a really long title. It's just a bit of fun to play around with language because I try to write and speak Filipino, Ilocano, Spanish, and English. [For] many of us, as Australians, as Asian-Australians, as POC-Australians, as First Nations people, there's a gap when we're in a world that really privileges white society. So, that's where I started that poem. The structure of the poem is contrapuntal — as you said, there's an echo. You've got the main column, but then you've also got a secondary column that can be read individually. I argue that they probably work better together. [I was] just exploring language and structure.
Angela: Yeah, it definitely took me on the journey. How do you feel about writing poetry as an emerging writer? Because I know that it's currently quite difficult to get poetry published. What draws you to poetry?
Robert: Yeah, I totally agree. I don't think it's for any kind of commercial success at all. I think the first poem I wrote was a love poem to my boyfriend at the time. And I was like, 'I love you, love you, love you, love you, love you, love you!' And that was nice to get out, like, 'Oh, I can really articulate feelings.' I felt a feeling of healing while being in that relationship, so I wanted to write it down. So two years ago, I thought 'Look, I'm just gonna give this a go.' I'm not sure how good of a narrative prose writer I am, but I've found poetry has become a real catharsis — a real space of reflection, which I never really had. I didn't really know how to make space for myself. I would either always be with friends, always be on social media, always partying, always having sex. I just needed to make space for myself and poetry was a place to do that.
Angela: Yeah, I really love that. I personally don't think I have an affinity for poetry. I'm definitely more of a prose writer. But there are moments, like you said, where I have so much emotion built up and I just need a cathartic space, and that's when I turn to poetry. So, I really, really relate to that.
You've used religious imagery and references in 'My Mother's C-Section' and connected them to cultural practices. Can you talk about your experience with religion and culture, and how that's affected your writing?
Robert: Yeah, I think it's one of the major influences. I grew up in a Pentecostal Evangelical Church, much like Hillsong but a little bit more hectic, I would say, with their spiritual gifts, the prophesying, the gifts of the Spirit, the words of knowledge, the praise and worship. I was constantly around this fervor, this intense energy of belief and conviction, and right and wrong morality. It was a massive part of growing up and my identity. I lost [that] around 16 years old, when I started to realise, 'I definitely am gay,' and it was either the hiding it or exposing it. I wouldn't reveal it for a lot longer, maybe five or six years after that, but regardless, I kind of moved away, or as people in the church say, I fell away, I've backslidden — some of the terminologies used in the Evangelical church. I tried to forge my own path, but the beginning was very much based on a belief of Jesus as a father, a best friend, a boyfriend, a healer, a prophet, just everything. Jesus was your all-in-one glue and fix, and so separating myself from that took a long time. The church is quite a powerful community, I think, and it really generates a real sense of belonging.
In addition to that, growing up mixed-race in Australia in the 90s was really fucked up. My dad was — is — a redneck, racist, white guy that I don't talk to at the moment. [He has] beautiful qualities like any human, but he's still a racist redneck who once showed me that he voted for Pauline Hanson. He took me into the voting booth at the 1998 election and showed me that he was voting for Pauline Hanson, One Nation. So yeah, there's these deep issues of colonisation and racism in my life.
I'm so proud now to be Filipino, but it's taken a long time.
I'd always tried to hide my Asian-ness, being half, because we privilege whiteness. It's like, 'Well, I'm half white, so I'm going to try and be even whiter.' So I guess with poetry and learning language — particularly Ilocano, which was my first language before kindergarten — I've tried to reconnect with culture that isn't just based on societal power structures that privilege my whiteness.
Angela: Obviously 'My Mother's C-Section' is a very personal piece. Is this particular story something you've been meaning to tell for a while?
Robert: I guess no. I like the simplicity of playing with words as a writer. I like this poem because there's rich imagery in it, there's that contrapuntal structure — that echo — as you're saying.
As a young writer, as a new writer, I am — and I encourage other writers to do the same — creating space. I'll create space most days of the week before work. I try to go to my local coffee shop, even though they get pissed off because I just order one long black and sit there for like an hour or two and write. And sometimes — most of the time — what you write is not great; you may not use it again. But often, there will be something that you can use again or workshop. And I think that poem came very quickly. I wrote it down and edited it, tweaked it for a week or two after that.
It was quite a quick process, it wasn't this big magnum opus that I was trying to convey. It's just [about] a feeling of pain and loss, and just trying to weave in all of my childhood experience of Pentecostalism, of feeling lost in the mixed race identity.
Angela: So, the sort of words just came quite easily then, they flowed out quite smoothly.
Robert: Yeah, particularly the first half of the poem. I think that was [done] in a few minutes. For me, I love the editing part of writing. I love sitting on a poem, and just being like, 'Oh, I like this word, but maybe I can change this. Or, I can change this preposition. Or, maybe we can change the structure completely and how it looks in the layout on the page.'
Angela: What inspired you to submit this to the call out?
Robert: I wasn't really looking for prizes, or to be published anywhere. I'm lucky enough to have a friend that works in publishing. She [told me] about this prize and that maybe I should submit to it. I'm probably one of the older kids in the group because I literally turn 31 tomorrow, so I just made the cut. She said that Ultimo Press is a good publishing house. And I saw that Claire G. Coleman was the judge and she's freaking fantastic — a First Nations writer and educator. I heard her speak at the Writers Festival last year and she's just, you know, salt, fruit, grain of the earth. It was so huge when I was selected.
Angela: Do you have any other projects currently being worked on? What does the future look like to you in terms of literature?
Robert: I'm not sure. As we've spoken about, poetry isn't something that's going to earn millions — which is fine. I think I'll continue to write poetry because I can't not write anymore. I've started to develop this practice. If I don't write, I can see how other parts of my life are so radically and negatively impacted by the loss of that space and practice.
Maybe I'll try to get some more things published. I've just started a writer's residency with a group called Unyoked. They've got a good anthology coming out, I'll be in that. And I'm one of their four writer residents, so I'm going to go to their cabins over the next six months. It's really meant for the writers to disconnect and be in nature. But I'm going to take my mum because my mum's most of my poetry, she's my muse. She can come and disconnect with me.
I'm not super goal or ambition-focused at the moment. I think I just want to heal and I hope writing helps that.
Angela: Like you said, it's a cathartic process.
Robert: Yeah. One sentence I would like to add is: young or old, we can all write. I mean, no one is born a brilliant writer. It's about turning up, giving yourself the space to write, and once you provide yourself the space or carve out a bit of time for yourself, I think that's where the genius comes. I've read some of the other poems [in Everything, All At Once] and some of them are so brilliant. For most writers, it's also [about] reading widely, deeply, thoroughly. A poet I love is Eunice Andrada. Eunice is a Filipina-Australian poet. She's younger than me. She's a brilliant educator and writer. First Nations poet, Jazz Money, is fantastic. There are brilliant writers out there in our society, in our city, in our country. Just keep reading. Keep reading widely.
You can read Robert's poem, 'My Mother's C-Section / Un Terremoto Ilocano (An Ilocano Earthquake)', in Everything, All At Once (Ultimo Press).
A vibrant and essential collection that celebrates the future of Australian writing, Everything, All At Once showcases showcases 30 emerging writers under 30 as the winners of the inaugural Ultimo Prize. Brimming with a host of intriguing characters seeking comfort and connection in an uncertain world, this collection of short fction and poetry sets the agenda for the next generation of Australian writing.