23 May 2023 •
Student News
UTS Revue Presents Off Off Off Broadway
If you've ever wondered what it would be like to watch a completely copyright-free Broadway show produced by broke uni students that bears only a faint resemblance to the music you know and love, UTS' Comedy Revue and Performance (C.R.A.P.) Society is delivering your dream with their upcoming revue.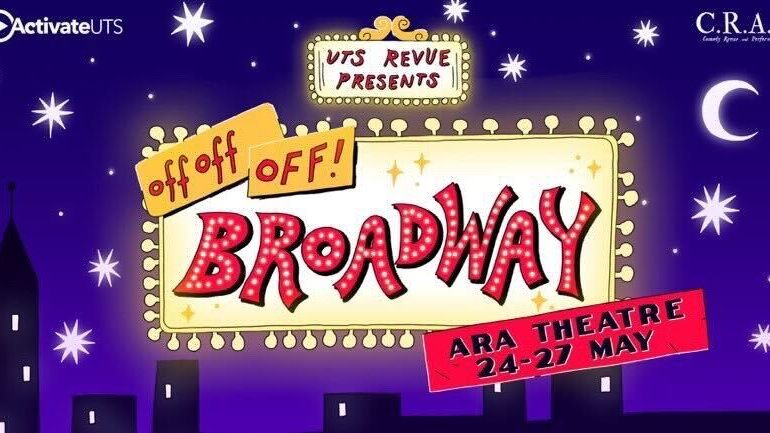 A love letter to ex-high-school theatre kids, co-directors Belle James and Zara Zuccolotto describe the show as "one ugly, strange, kind-of recognisable Frankenstein" that simultaneously makes fun of and pays homage to theatre culture.
Joining C.R.A.P. in 2022 as actors, second-year Media Art & Production students Belle and Zara decided to take the plunge and pursue their passion for comedy writing by running as co-directors.
"It was a matter of doing more of what we enjoyed from last year, and we're still very hands-on in rehearsals. I think having acting experience makes you a better director," said Belle.
Beginning with a pitch for the revue in January, many months of intensive workshops, writing sessions, tireless rehearsals, and singing and dancing choreography have gone into the production of Off Off Off Broadway. A blend of satirical comedy sketches, musical parodies, and drama games, the revue is set to defy expectations with a number of exciting moments, including, but not limited to, Lin Manuel Miranda's sex playlist, Oompa Loompa liberation, and true crime podcasts.
To capture the scope of what audiences can expect, Belle and Zara have summed up the show in three words: "Camp, hyper-specific, meta."
Built from scratch, Off Off Off Broadway's debut on Wednesday, 24 May, will mark the culmination of C.R.A.P's commitment, camaraderie and comedic talent. With sketches sparked from prompts, improvisational moments and collective input, the vision for the revue has been brought to life by the passionate dedication of its creative team of old members, new members, students from other universities, and people who aren't even in uni anymore!
"It's a really incredible experience because I think a lot of people are scared of comedy and improv theatre and making something from nothing," said Belle.
"It's very daunting, and it's very scary to be vulnerable and put yourself out there comedy-wise, but my favourite part is seeing these people become close and how natural they are with each other."
Whether you're a theatre kid or simply someone who loves a laugh, Off Off Off Broadway promises to surprise audiences with a weird and wacky tribute to musical culture and the community that keeps it alive. As Zara puts it:
"If you want to spend two hours of your life not thinking about anything and watch extremely strange things happen on a stage, come watch the show."

Off Off Off Broadway is showing at ARA Darling Quarter Theatre from Wednesday 24 to Saturday 27 May. You can find more information @crap.uts and purchase tickets via the link below.
https://aradarlingquartertheatre.com.au/production/uts-revue-off-off-broadway/