Goldilocks 2022 • 02 November 2022 •
Arts & Lifestyle
Cherishing Childhood through Colour: A Conversation with Katie Zhou
To spotlight emerging Australian artists, Vertigo chatted with Melbourne-based graphic designer and illustrator Katie Zhou about her playful designs that capture childhood innocence.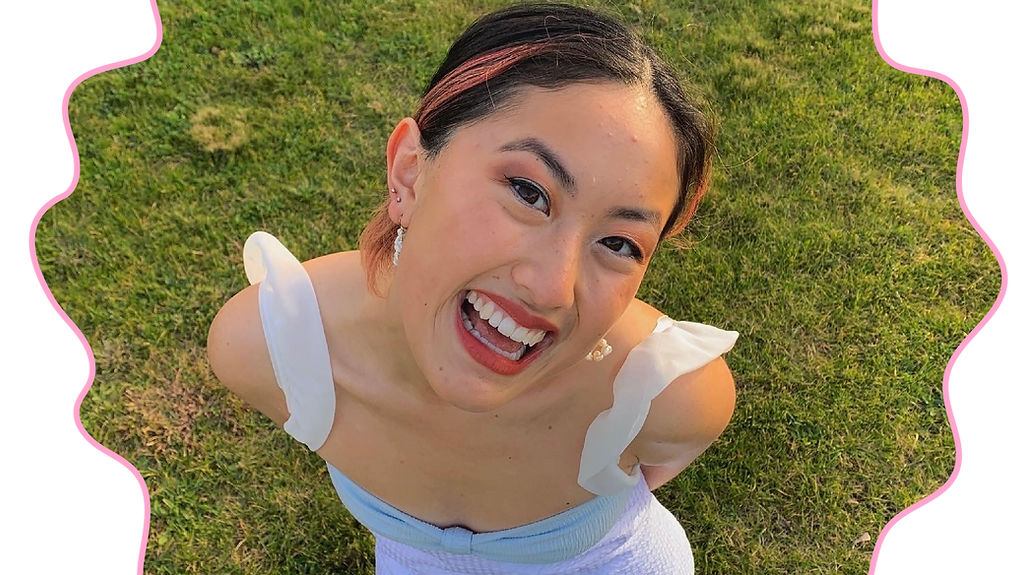 V: Could you begin by introducing yourself?
KZ: I'm Katie. I'm in my third year of studying communication design at RMIT in Melbourne. I've always been interested in doing something creative, and when I was really little, I'd always draw. I'm 21 now!
V: You have a very distinct illustration style, with many of your designs being very colourful and playful. How did you develop that style?
KZ: It's similar to how I would draw when I was younger, as I am interested in the illustrations of kids' picture books. I held onto that because I love things that look happy and things that can brighten people's days. That's what I enjoy doing the most, so in the past few years, I've developed that style and played around with it as it's my strong suit.
V: Are there any children's illustrations that have been particularly influential for you?
KZ: I actually used to draw the Rainbow Magic books when I was younger, and I really loved all the colourful fairies. I also really liked Elmer the Patchwork Elephant. I like fantasy illustrations that are a bit weird and wacky because when I was younger, I really imagined being in those worlds when I read them. That kind of stuff inspires me because it's similar to how I feel when I get lost in my world of drawing.
V: What does your creative process look like?
KZ: It depends on what I'm designing. When dealing with a client, my process usually starts with a meeting, discussing what they're seeking, creating brainstorms, and suspending any judgement of my work. From there, I usually do some physical sketches and then move on to making my work digital. I work on doing little refinements, working back and forth, showing the client different options, and then I'll focus on perfecting the final version.
The creative process changes for each thing, though illustration comes a lot easier than design. For design, sometimes it takes me a while to get the right idea and become inspired.
V: I saw that you commissioned a digital illustration as a gift to Olivia Rodrigo, which sounds like a fantastic opportunity. Tell me about that experience.
KZ: That still doesn't feel real. Last year, I drew Olivia Rodrigo for fun because I love her. The person who works at Madison Square Garden Entertainment came across my work. I just randomly got an e-mail one day, saying, 'Olivia is playing a show at the end of the month in Radio City, and we normally love gifting artists an illustration. Would you be interested?'. I remember sitting at uni, thinking it must be a scam e-mail. But then I googled the woman's name, and I was like, 'Wait, this is actually real'. Of course, I said I was interested, and then we had a call where she gave me an idea of what she wanted, and then I made it, which is wild. I'm assuming they gave it to Olivia, which is really, really cool. It's such a dream come true because I love Olivia.
V: You're also a finalist for Frankie's Good Stuff Awards. What has that experience been like?
KZ: Again, it also doesn't feel real. Since these things are so unexpected, they feel locked away in my memory. I was following a page called Young Designers of Australia, and they posted about Frankie's open call for people to submit, and I thought I might as well because I had a design that I thought would work. I submitted it so quickly, actually the night before, and then someone reached out to tell me that I was a finalist. I love the magazine, so I was so thankful for that opportunity.
V: You submitted a zine titled 'Once Upon a Time', which you said was 'essentially an ode to childhood and imagination'. How do memories of the past play a part in your designs?
KZ: It definitely plays a huge part as my designs are inspired by imagination and how kids view the world. I don't like to stick to the rules or be so uniform with my designs. Instead, my designs are informed by thinking about how I would feel as a child and how I would see the world with curious eyes. Holding onto your inner child is something that's really important, and sadly it's easy to let go of or forget about. I always like to remember to be silly and playful and just have fun with what I do.
V: What messages do you want to convey with your designs?
KZ: I'd love for my designs to brighten peoples' days. I want my designs to have a positive, lasting impression on people and improve the world somehow by promoting a good message. I want to work towards working with brands that better the world. Design is everywhere, which is really cool because it can have such a significant impact.
V: As a young artist yourself, what advice would you have for other young artists trying to find their own style?
KZ: As I still don't fully know my style, the main thing I would say is that finding your style is something that comes naturally over time. The more you make, the more you will know what you like, and it will become your style. Don't push or try and force that feeling because you don't need to have a specific style; you can just be creative and explore.
If you're looking for more work by Katie Zhou, you can find her on Instagram @katiezhoudesign or at her website: https://www.katiezhoudesign.co...