Goldilocks 2022 • 02 December 2022 •
Arts & Lifestyle
Celebrating Colour, Culture, and Cartoons: A Conversation with Humberto Cruz
Passionate about all things pop culture, Humberto Cruz is a San Diego-based graphic designer and illustrator whose work embraces the unbridled imagination and vibrancy of childhood. A mixture of hand-drawn art, digital collages, and spray paint, his Instagram account, @iscreamcolour, is a joyful homage to the music, cartoons, and fashion of the '80s and '90s. Vertigo had the pleasure of speaking with Cruz about the influences behind his colourful work, his inner child, and the therapeutic power of art.
Content Warning: Mental ill-health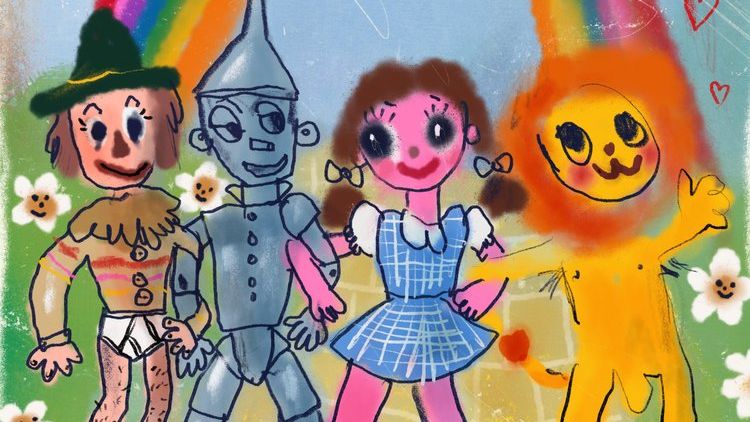 V: Your studio account, @iscreamcolour, has over 149 k Instagram followers and boasts a brightly coloured feed of quirky collages and motivational messages. How did your design career begin?
HC: I've been drawing since I can remember. I studied graphic design in San Diego, and that's when I started working on digital illustrations. I feel like my style took a different direction over five years ago. I wanted to show more of my personality in my drawings without thinking about whether people were going to like it.
V: Can you walk us through your creative process?
HC: I always need music! That's my only rule. I like pop, '90s rock, Latin, and French music. Bad Bunny always puts me in the mood to design!
I like drawing on paper with markers or on my iPad. It often depends on my mood, as I don't plan what I will draw ahead of time.
V: How does childhood nostalgia influence your designs?
HC: That freedom of drawing like a child is still within me. I don't want to draw a perfect circle because it's not who I am. My work is made of mistakes and happiness.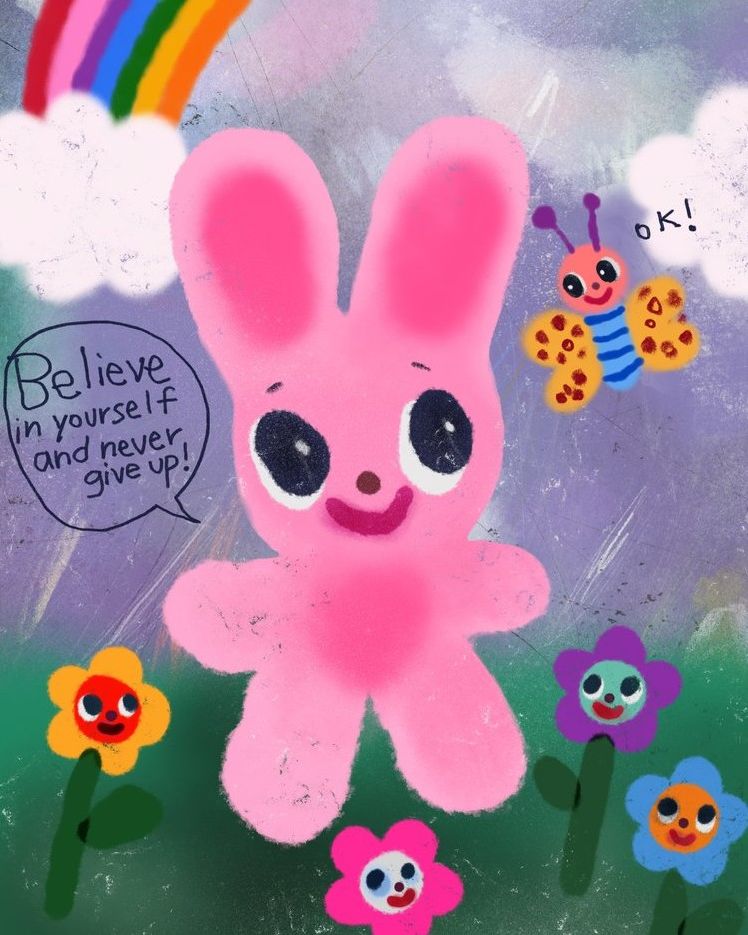 Believe in yourself!!!
V: Which artists have influenced your works?
HC: Yayoi Kusama and Andy Warhol. Both are very different artists, but both are very pop. I like Kusama's colourful work, which is very repetitive and modern. I love Andy Warhol's early work and all of his hand-drawn sketches.
V: You've worked with brands and artists like Chanel, Apple Music, MTV, Zara, Benee, and David Guetta. How does it feel to see your work receive such positive attention from huge names?
HC: I couldn't believe it at first! It's been a dream come true. It hasn't been easy, but it's been worth it.
Everything takes determination and hard work. I do this because it's my passion, and I couldn't see myself doing anything else with my life.
V: Celebrity culture and the fashion industry are focal points of your designs. What are your favourite pop culture moments, and what draws you to reimagine these pop icons in your designs?
HC: '90s fashion and Kate Moss always. Everything was very carefree in the '90s. We didn't need the internet and social media, and there were no cell phones! I miss that human connection. I think about parts of my childhood and teenage years, and I remember how simple life was.
I remember looking at fashion magazines and seeing Kate Moss in all the advertisements. I think that's why I like drawing on photos of her; I enjoy working and drawing over black and white images. It makes it more nostalgic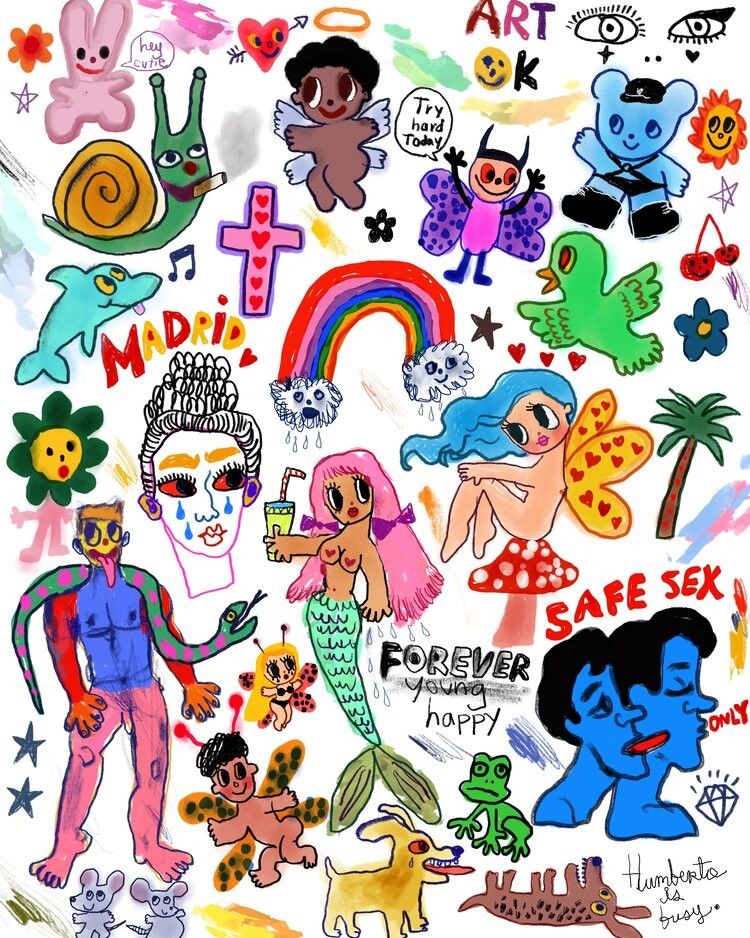 Forever Happy
V: As well as pop culture, colourful creatures and cute doodles are a mainstay of your designs. How have cartoons influenced your work?
HC: '80s cartoons were the best! I probably spent too much time watching cartoons as a kid, as we didn't have cell phones or the internet. Alvin and the Chipmunks, Jem, and Dennis the Menace are my favourites.
V: Your designs are an explosion of positivity, with many sharing encouraging messages about self-love and confidence. How do you use art to uplift people?
HC: After experiencing a panic attack about five years ago, I started focusing more on my mental health. It was a scary experience, and I realised I needed to change my lifestyle. I was working too much and worrying a lot about my future, but I wasn't paying attention to the present. The quote, "Trust the process, everything takes time", inspires me all the time. It's a reminder that we should slow down and enjoy each moment in life.
I began writing positive messages for myself, and then I started posting them on my Instagram. I hope they help people a little. It's a reminder that we're not alone and that things will get better.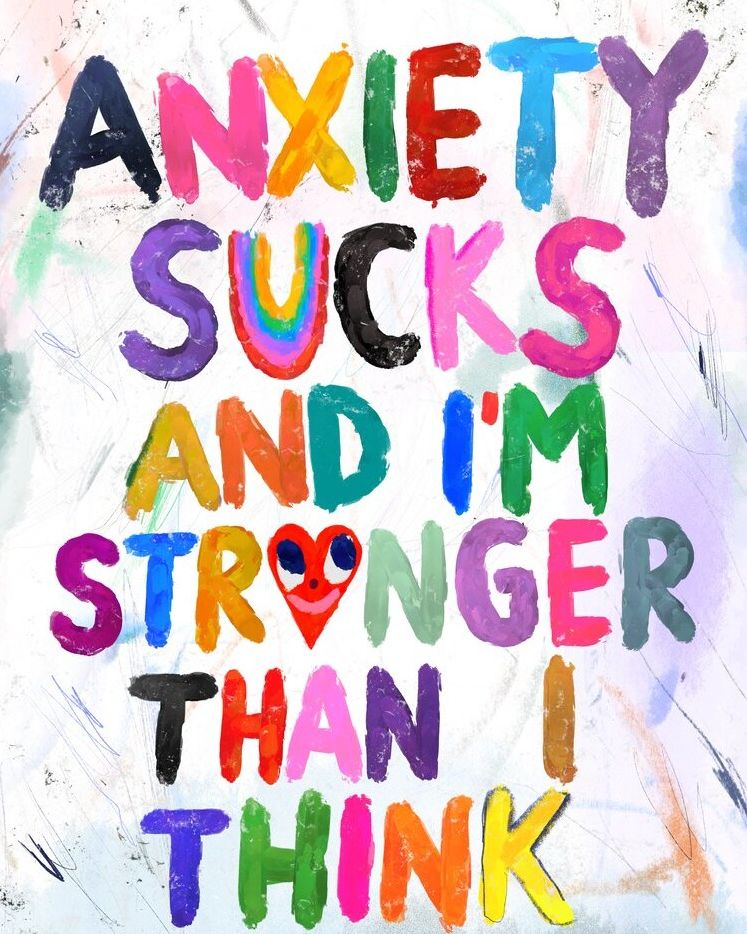 Anxiety Sucks
V: What emotions do you want your designs to evoke in viewers?
HC: All of them. But the most important one is love. I draw some mischievous characters to remind myself that it's okay to be fun and weird.
V: What have been your favourite pieces to work on?
HC: Probably the work I did for CHANEL and Apple Music, as I had a lot of creative freedom to work on them. I designed several covers for different playlists, and it's one of my favourite projects because it combines music and fashion.
V: What advice do you have for young artists trying to find their own style?
HC: Don't worry about the future; you will find your own style someday. Just work on your art every day.
V: What does the future look like for you?
HC: Hopefully, I can do this for the rest of my life and never retire.
If you're looking for more work by Humberto Cruz, you can find him on Instagram @iscreamcolour or his website: https://www.iscreamcolour.com/!