Friday Fluff(s)
---
Working by-lines:
It's like a coffee filter for the interblag.
The internet in fart-sized jiblets
Like some pretty good shit, ay?
FLUFFY FLUFFS
Youtuber Marco Blanca released his follow up viral-vid to 'Game of Goats' with 'Street Fighter Crazy Drunk Russians Edition'  It's alright, #GOaT is better. Goats forever.
MUSIC: New Alt-J and listen to The Creases already
After touring the hell out of their Hottest 100 dominating album Alt-J are back with new things and the things are pretty slick.
The Creases dropped their catchy single 'Static Lines'  pretty recently and it's found a lot of traction on local radio. It's catchy, easy-listening and almost certain to feature in the next Hottest 100 (#sponsoredbytripleJ). With a slot at Splendour and an EP release all in the space of a few days later this month we're sure to hear a lot more from these Brisbane-based rockers.
WEEKLY JOHN OLIVER: America's Growing Wealth Gap
If you're not on the John Oliver train yet I really have to ask why. He's dominating global satire right now  in only the way a white, British guy living in America could (zing!) and doing a damn fine job of it.  If you've missed past segments his rants on Net Neutrality, LGBT rights in Uganda and dear sweet Tone are all highlights.

WEEKLY SAD: Alcoholio Service Restrictions Get Worse
Because you're not the problem, alcohol is! Sydney gets some new restrictions and inches ever close to becoming a Newcastle-esque paradise.
WHY: Weird Al Tries to Revive Career, Is Awkward
Moving further towards pointless satire Weird Al is releasing new crappy songs that say nothing about nothing but have charm because of that one time he was famous. I'm not even going to link any here just do yourself a favour and revisit 'Amish Paradise' instead
TYPOGRAPHY: A Letter from Comic Sans telling you to Back the Fuck Up
Jokes for those keen on kerning. (It's funnier than Comic Sans).
FILM: How to do Visual Comedy: Courtesy of Edgar Wright

Edgar Wright directed Shaun of the Dead and Hot Fuzz so I really don't need to say more about why you should watch this video. If you have any interest at all in the way films are made and how people make 'funny' it's well worth a watch – plus it basically has a highlight reel of the best physical comedy moments from Wright's career.
TECH: Google is making machines that learn, Schwarzanegger signs new movie deal
Google has an artificial intelligence called Google Brain that engineers in the company have been working on since 2011. This article explains the implementation of Brain in Google Maps but speculates on future implications of the "shift towards a new form of artificial intelligence called 'deep learning.'" We're looking at AI being capable of making Google a better Google (and later a horrible dystopia of murderous machines).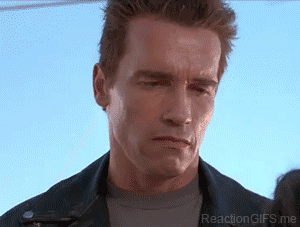 INSPIRATION: Dear Struggling Creatives, Here are Fresh Words on How you Need to Fuck Up


A guy called frohlocke, aka Daniel, made a really nice video using the audio from an interview with host and producer of This American Life, Ira Glass about closing the talent gap between your taste and ability. If you have any ambitions whatsoever this will be a cathartic experience for you.
BUZZFEED: Yeah, Buzzfeed. Growing Up in the 90s
Ja feel.
If you have see any good things through the week shoot us a line at submissions@utsvertigo.com.au or on our quaint FB. We'll credit you and people will know you have good taste (like tumblr but better).